Discovering Minimalism
Disclaimer: Article may contain affiliate links and colorful language.
Hey girl,
We are mompreneurs which mean, we have businesses to run while being moms. Some of us are also wifeprenuers and managing our relationships with our spouses too. We share a common struggle and that struggle is REAL!
Managing a household.
It is in itself a full-time job and couple that with running a business full-time, something is going to fall to the wayside. For us, that's usually the housekeeping.
I discovered we're not alone in this. Many mompreneurs in various networking groups I'm in, shared their own disdain for house cleaning and how overwhelming it is when running our business is just as important. I found we all share two common reasons why it's such a pain in the ass for us to manage this: the loss of both TIME and ENERGY.
Ok..and MONEY too.
So what's a girl to do?
I have been on a journey to find a solution to avoid ever having to deal with housekeeping again. It took me a while but I found it. Grant it, I still have to do it but at least I'm no longer competing managing my family, relationships, and businesses with this dreadful task. That solution is in a single word.
Minimalism.
Since I discovered this word last year, I have been obsessing with ways to apply it to my life as a whole. It is pleasantly overwhelming. The main objective to minimalism is to thrive in life by living with less stuff. It redefines the whole "less is more" idea by literally forcing you to live without so many material possessions.
Well, girl let me tell you. I ALONE have a lot of shit and let the truth be told, I don't use a majority of it. Therein lies the problem, the reason why I hate house cleaning and likely the reason why you hate it too.
We got way too much useless items in our homes. Clothes we don't wear, books we're not reading, papers we're keeping just to keep, toys unplayed with, and so on.
Let's not forget to include our office spaces too. Whether or not we realize it, we're holding on to a lot of "I'll need this someday" in and on top of our desks.
My journey led me to find a few groups on Facebook and was recommended to read The Life-changing Magic of Tidying Up by Marie Kondo. Needless to say, I bought it right away and read it from cover to cover.
Blew. My. Mind.
After reading, I took immediate action to purge my home and office space from all unnecessary things. I started with purging our clothes and shoes first. Then I focused on my own belongings like books, jewelry, bags, and toiletries. Girl, I unloaded so much shit.
To date, I am almost where I want to be but as a family, we're getting there. As my family watches me unload and make room for only the things that bring value to my life, they're learning and practicing the same with their belongings.
We're winning and housekeeping is definitely better when we have less shit to keep. It's a process so it takes time and a lot of emotional checking. The lessons in this book will help you to realize any habits you have and evaluate them to further improve your life.
So what say you? Want to give minimalism a try so you can spend less time cleaning and more time doing the things you love? We will be talking about and sharing ideas about this in my Facebook Group. Click here to join.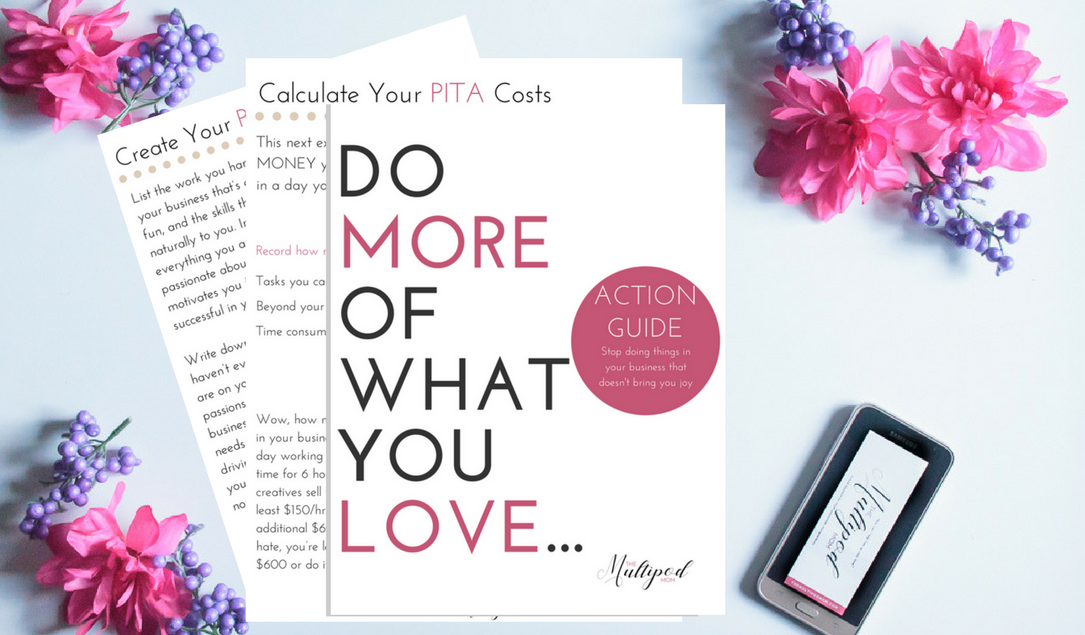 DISCOVER what you're passionate about in your creative business, do more of that, and delegate the rest. Get my FREE action guide here.